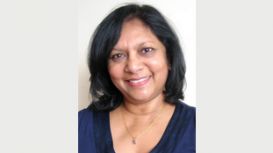 Niru Campbell is a professional Stockport counsellor who follows BACP Ethical Framework for good practice in counselling and psychotherapy. Niru Campbell has over nineteen years of counselling experience in dealing with difficult issues such as anxiety, depression, bereavement, stress, eating disorders, trauma and many more. Counsellor Niru's aim is to help you find ways of dealing with your problems or difficult situations, by exploring your feelings, empowering your inner strength and resources, looking at your options and working towards your expectations.
Counselling can involve changing your thought pattern and your behavior so you can cope with your problems and anxieties better. Niru can assess the best therapy that will be suitable for you from CBT, EMDR, Mindfulness or just talking though counselling therapy. Would it help you to free your mind by talking to a qualified and experienced counsellor in confidence without being judged?
---
Reviews and Ratings
We do not have any reviews about Niru Campbell available right now.