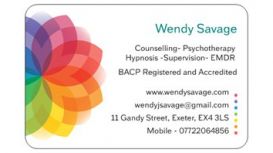 Are you feeling anxious, depressed, isolated and frustrated?
Do you have low self-esteem or are negative thought patterns holding you back from achieving your goals, connecting with others and living your best life?
People seek Counselling and Psychotherapy for a variety of different reasons. At times we all struggle and sometimes we all need help and support. Whatever it was that brought you here today, Therapy can help you to make sense of your thoughts and feelings in a safe and confidential setting.
Talking Therapy can help you to explore current or past issues which may be impacting your life or relationships. As your Counsellor, I will walk alongside you, offering emotional support and helping you find your way through difficulties, to a more positive future.
I am an experienced Psychotherapeutic Counsellor with my own room based in the centre of Exeter, Devon. Alongside Counselling and Psychotherapy, I also offer EMDR, CBT, Hypnotherapy and Supervision services.
I have experience and training in working with many different models and approaches, however, developing the therapeutic relationship between Therapist and Client is of paramount importance to me. I work to create an atmosphere of warmth, trust and acceptance.
Business Verification Status
Reviews and Ratings
Wendy has been the first counsellor (of many) that has helped me figure out the limiting thoughts and that pain from childhood can be healed. She is a down to earth real person who has inspired me to be the best I can be.
Wendy was warm, Intuitive and non-judgmental I felt comfortable working with Wendy. I had a session of Rapid Transformational Therapy as had been feeling stuck moving forward with business. I had also been experiencing Fatigue. Since our session last week I have now gained confidence in approaching providers and the fatigue has decreased a lot. I am now receiving some fantastic opportunities for the growth of my business. I am truly grateful and can't recommend Wendy's services enough.
I can't thank you enough Wendy for helping to move my forward, Excellent!